By now, if you are reading on what makes a good action camera, you should already know what an action camera is and what it is used or good for.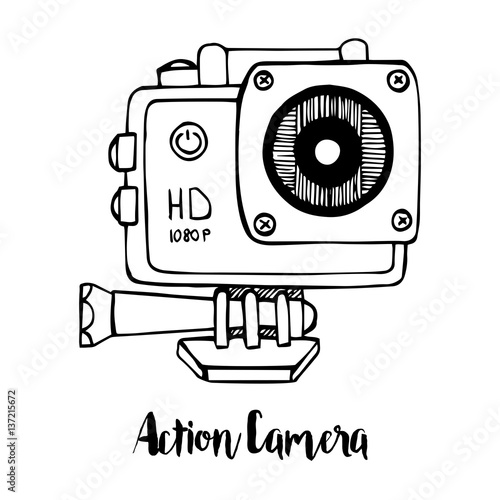 What is a good action camera?
What comes up to your head when you hear or see an action camera? Is it a GoPro? Did I guess it right? At least it's that for me. But have you ever wondered why? GoPro was built for quality even if you go all the way back to its first camera, you would have noticed that. But what makes it good hence popular? Are there any other alternatives for GoPros but cheaper?
Video Quality (Good Colour Detection)
GoPro Video Vs SJ4000 Video
Firstly, good action cameras have amazing video quality. The latest GoPro Hero 5 Black has a 4K resolution that can record 30fps, giving you that cinematic, smooth and crisp footage. There are many action cameras out there that can perform with same fps and resolution, but I still think little to none action cameras can match its colour definition which to me nowadays, decides whether an action camera is good, or average.
Built-in Video Stabilisation
Built-In Image Stabilisation in Revl Arc
Many cameras with an average price point would have an image stabilisation which is only available for photo modes and those that have video stabilisation are usually very rare as they require a much more intricate hardware and algorithm. 2 examples of cameras which have done very well in this regard would be Sony XDR3000R and Revl Arc , an Indiegogo startup company.
This feature is very important because with it, the footages captured by the camera would be very smooth and clear and no extra editing would be required which can be a hassle sometimes. Editing or digital correction will also limit the field of view due to software limitations.
Most of the time, I would have to say that using an external stabiliser such as a gimbal would be more effective than the built-in stabilisation because of the space constraint in the camera that does not allow it to exceed a certain range.
I have written a more elaborate explanation for built-in stabilisation here if you are interested in it.
Wi-Fi/Bluetooth Connectivity
The main use of this feature, in my opinion, would be to use it to view live footages and playback without having to remove it from the mount which can be quite a hassle especially when it is mounted somewhere deep.
Although there are many action cameras out there that have these features, many of them aren't really user-friendly and have problems especially during the connection.
A good action camera company would usually invest a lot in this feature and the app itself because they know the importance of this connectivity and this is even more important when the camera has no screen and the only way to change the settings of the camera would be through your smartphone such as the GoPro Session. 
Some of the problems listed by many users would be like unable to connect or suddenly breaking connection or even the phone app crashing. Hence, I would recommend everybody to read reviews and feedback on the product before buying them.
An example would be the Eken H9R, which I did a review on and I have heard people having connection problems before.
Wind-Noise Reduction
Most cameras that I noticed that have this feature are usually ones that are in a higher price range such Sony action cameras or GoPros.
Many of the times, during video taking such as in a motorcycle or anything fast actually, there would be a lot of interference, be it from the wind which is the majority of it and background noises. That will result in you being unable to hear anything such as the engine or exhaust noise. That is when this feature comes to use.
But how does wind-noise reduction work?
Well, one example I can give would be GoPro Hero 5 Black. There are multiple microphones located at different sides of the cameras. These microphones then communicate to each other telling the camera what it is recording and from there, as the sound is coming from different directions, they can electronically cancel out noises caused by the wind, resulting in a clear and crisp audio.
Data Sensors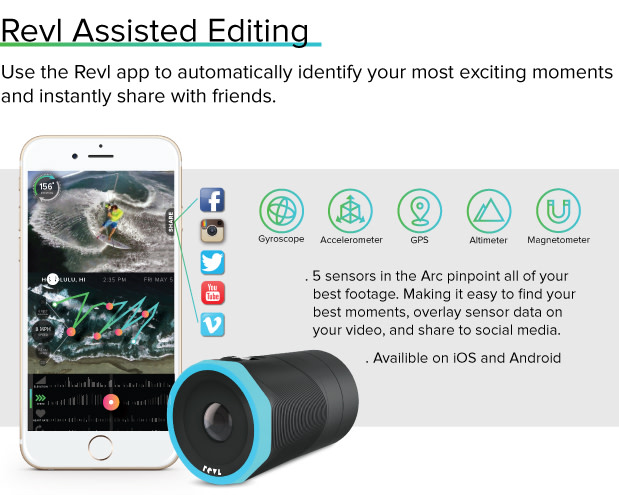 Revl Arc Different Sensors
Action cameras nowadays as far as I have seen don't really include different sensors to track various data such as altitude, velocity, acceleration, orientation, etc.
I think that this is because they don't realise the importance of this and hence don't include it in their cameras.
You may ask, what is the use of these data?
Well, with these data, and of course software and algorithms, the editing app would know when the highlight of the footages are and then delete the rest of the boring stuff which SIMPLIFIES editing by a tonne.
An example of a camera that is able to do this flawlessly would be the Revl Arc, an Indiegogo project startup and you should definitely check this out if you are looking for a really cool action camera.
Conclusion
The thing about action cameras nowadays is that they can't really be trusted from the pure specifications or the specs sheet itself because they are finding many ways to falsely advertise. So what can you do?
Firstly, you can visit review pages or forums to learn more about the product and read what people who have bought the product feel about it which I think is the most effective. Another way you can do is to read the specs sheet of the sensors or chipsets they use to see the real specs of the camera. I will write more about this soon.
A way that action camera companies would do would be putting or labelling 4K on their camera although it isn't real 4K which you can find out more about here.
Also, similar to the fake 4K example, many manufacturers have also used fake image sensors to falsely advertise so that they have the competitive edge which I wrote more into here.
---
Lastly, if you have a little bit of time to spare, I would really like to hear your comments and feedback about what are good action cameras or anything in general. Thanks for reading and have a nice day! =)