I am writing this post mainly to tell you all out there that it is really important to protect your camera because I, myself have been a victim of cameras being damaged due to improper storage.
What happened to me…
My Ruined SJ4000 and scratched lens
As you can see from the picture, I kinda ruined my action camera.
To start off with, I personally owned a SJ4000 non-wifi and that was my first action camera that I have ever used. Needless to say, I was a complete newbie and expected my camera to be a little more durable and hence I didn't even use the case because I found it was a little too bulky for my liking.
Hence, I went on a trip happily hoping to record footages and moments I can share with my friends and family just like other trips.
The first couple of days were good, the camera looked like a brand new one, footages crisp as ever but however, on the 4th day of my trip, because I was rushing, I dropped my camera with a pen in a loose compartment in my bag when I was supposed to be putting in a pocket. Unfortunately, it started to scratch the lens and coloured my camera as well and when I took it out, I was shocked.
I immediately regretted my decision to not use the protective case and also not store it properly and put it in a loose compartment in my bag.
How did the scratches affect the footages?
The footages had a glare on them whenever I used it at the place due to the scratch on the lens.
So why did I share this with you?
So that you will learn from my mistake and not have to damage your camera like I did and also the importance of storing your action camera safely.
Factors for action camera storage
A storage isn't really necessary if you only bring out a camera only because you can actually store the camera in your bag's pocket.
Also, another thing is even if you have a GoPro, Eken, SJCAM or Sony action camera, all these storages will work regardless.
However, if you have any other mounts or monopods or accessories, etc, these are something that you can consider to store your action camera gears.
Reliability: How durable it is and how long it can last.
Minimalistic: How simple it is and whether it is bulky or not
Price: Whether it is worth its price
Convenience: How fast can the camera gear be taken out
Types of storages
I usually like to classify things with the same purpose, such as the storage here, by its sizes. It is also very difficult to classify storages as of them are roughly the same. Hence, I would classify it into 3 different sizes, large, medium and small.
Large
These are usually used by professionals because they can hold a few action cameras and many accessories and they require that. Professionals often bring a couple of action cameras with them because they oftentimes have a few members that they need to put on and also, in the event that one action camera fails, there would still be backup for them to use.
For storages of this size, it is usually very durable and strong. However, one downside of this is that it is very bulky and hence it is not very convenient to use. However, if you are looking for one to store at your home for all your accessories, I feel storages of these sizes may be right for you.
Click here to view some 'large' storages in Amazon or Ebay.
Medium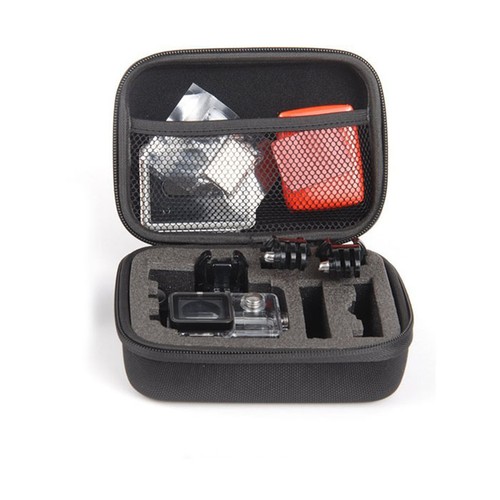 These bags can only usually hold up a single camera as the other space are used to hold the camera's accessories. This is for those that only own or usually bring out one camera but have different accessories for it.  Although it only fits one camera and a couple of accessories, I still think that this still too bulky for my liking.
These storages are also very cheap and it is really ideal for someone like me who travels a lot and a simple camera + one or two little accessories would be enough.
Click on the link to view some 'medium' storages on Amazon or Ebay.
Click on the link if you are looking for an original medium SJCAM storage or medium Yi storage.
Small
Last but not least, the most compact and smallest of them all. I personally like using this because I often go travelling to sightsee and visit my relatives and most of the time, I do not need accessories. A simple chest mount or clip and a waterproof casing will suffice.
Other than that, I also enjoy convenience a lot. These cases are very portable as most of them can fit into my backpack without any hassle. I have seen some, where it can even fit into your pocket.
If you usually bring a camera with a small object such as extra batteries or mounts, these cases will also be very ideal for you.
A note would be that these storages are hard to come by as most of the times, they come together with the camera or devices and hence are not sold ala carte. However, I have found a few that is really value for your buck.
Click here to view some 'small' storages on Amazon or eBay.
Summary
At the end of the day, it is all about experimenting and trying out what fits you best. What I wrote above is purely my opinion.
Most people I see carry along a selfie stick or monopod with their action camera, hence many of the times, I don't think a proper storage is required. Just find a pocket in your bag that is empty and put it inside.
This post was mainly for enlightening you on the different kinds of camera storages and I hope you have gotten some insightful ideas from this post as to whether or not you should find a storage for your camera and if so, what kind of storage you should be looking for.
Thanks for reading and dropping by! If you have any other unique ideas for storing your action camera or want to share anything at all, please feel free to comment down below and have a nice day! =)