Are you new to action cameras? Do you want to try out a waterproof and decent action camera for yourself that does all the basic functions under $50? If you said yes, you might want to consider the V3 Sports Camera.
First Looks…
At my first glance of this action camera, it has a similar build to many other action cameras out there in the market such as SJCAM and GoPro. It is really compact and looks really similar to the SJ4000. The buttons look roughly the same, with that shutter button having the 'OK' label and the power button having the power symbol and mode.
Product Specs
Video Resolution:
4K 30fps, 2.7K 30fps, 1080P 60fps, 1080P 30fps, 720P 90fps, 720P 60fps, 720P 30fps
Image Resolution:
16MP / 12MP / 8MP / 5MP / 2MP
Storage:
Up to 64GB Micro-SD
Connectivity: 
Wi-Fi
Waterproof:
30m
Field of View:
170˚
Loop Cycle:
2, 3 ,5 min
Battery Life:
About an hour on 1080P
Product Features
Sony CMOS Image Sensor
This camera uses an 8MP IMX179 image sensor by Sony which is really cool in my opinion. In case you are new to action cameras, Sony image sensors are usually built with high reliability and quality.
Allwinner V3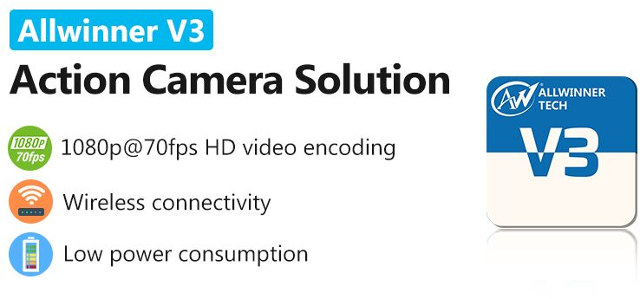 The chipset used by this action camera is from a China company and a similar action camera using this that I found is the Elephone Explorer and F60 Action Camera. In case you didn't know what a chipset is, it basically is the processor of the camera and is in charge of how much the camera can 'handle', and some of the things that it affects would be the resolution and frame rate.
 Accessories
As you can see from the picture, it is pretty standardised with all the different types of mounts you would need, such as mounts for bicycles, helmets and tripods or monopods, and also micro-USB cable and adapter to charge and transfer data and also some other things like a manual and a cleaning cloth. These accessories definitely meet the needs of an action camera newbie.
If you like to know more about the accessories, please feel free to drop a comment down below or stay tuned as I am going to write another more elaborate review on these accessories soon.
Phone App – XDV
The app like many out there in the market allows you to do the following. You will have to connect to the Wi-Fi of the action camera before you can start using the app.
Some of the main features I use the app for would be to view it live, change the camera, video or photo, options, manage your photos and videos, meaning you can delete, download, etc.
Something to note would be that when using the app, it may be unclear sometimes due to the higher frame rate of the footage but this is nothing to worry about as the problem lies in the connection and when viewed on a computer or in playback mode, quality of footage will be good.
Although you can adjust the settings from your camera directly, I still feel the application is a better option as it is more convenient as the screen on the camera is quite small and the user interface isn't really easy to navigate too.
If you want to know more about the app or download it, click here for IOS and here for Android.
Sample Footages
Where you can buy V3 Sports Camera
GearBest (36 USD)
Conclusion
This camera would definitely make a good camera if you are someone who is finding a camera that is cheap yet good enough to film everyday stuff to get a rough idea of what is going on.
I wouldn't say the video quality is a 'wow' but it certainly is for something decent for its price range. (What can you expect with a $40 camera?! Even being able to record smooth videos is amazing!)
Another thing to note about the 4K resolution. Although it is stated that it is 4K, the 4K is interpolated. Hence,  4K can't be used because it isn't true 4K. Despite saying that, it can still take 1080p at 60fps which is a really useful feature that I like and I'm sure you won't regret buying it, be it for yourself, or as a gift to your friends or family.
–> Click here to see my other camera reviews!<–
–> If you want to know more about action cameras and what to look out for before buying, click here<–
Lastly, thanks for reading and if you have any queries or want to know anything in general, please feel free to drop a comment down below. Thanks!